BEST SELLERS
Red Thai Curry Paste
Our Red Thai Curry Paste is a flavorful blend of dried red chili, lemongrass, shallots, makrut leaves, and galangal.
SHOP NOW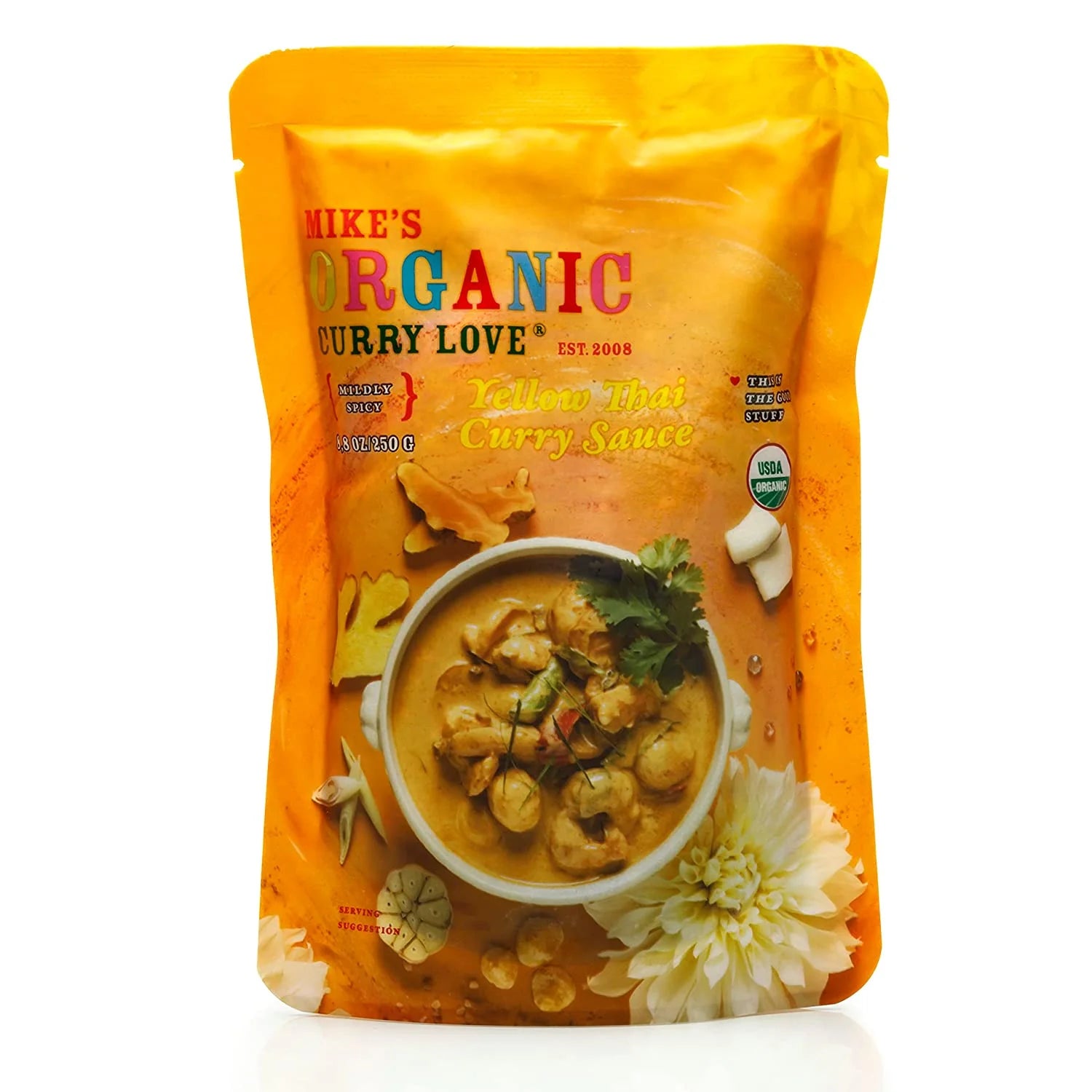 Yellow Thai Curry Sauce
Our Yellow Thai Curry Sauce is a flavorful blend of lemongrass, dried red chili, shallots, red turmeric and coconut milk.
SHOP NOW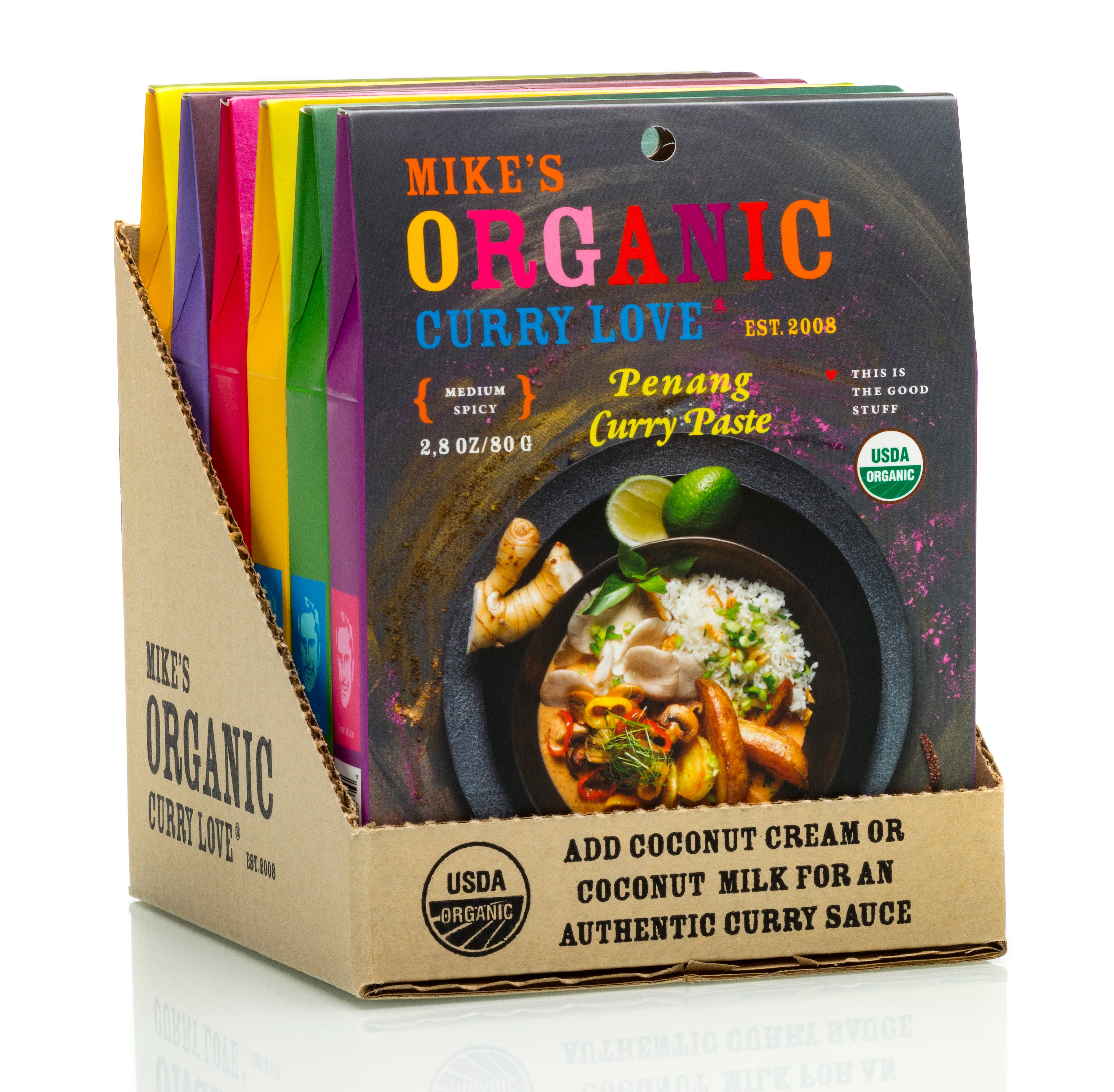 Mike's Organic Variety 6 Pack
Our Curry Pastes are certified USDA Organic, vegan, gluten free, palm oil free, nut free, dairy free and preservative free.
SHOP NOW
Full Flavor Fast
We make it easy for you to prepare your favorite curry dish on the fly. You will be the envy of your friends & loved ones & no one has to know that you didn't spend hours preparing the perfect blend of spices... Just soak up the accolades & like a gracious host smile & tell them it was no trouble at all.
Shop Now
Ah, Red Thai Curry Paste
The fiery sensation that'll make your taste buds tingle and your nose run faster than Usain Bolt! Traditionally made with a mortar and pestle, this พริกแกงเผ็ด phrik kaeng phet packs a punch with its blend of dried red chili peppers, garlic, shallots, galangal, salt, and makrut lime. But fear not, for when combined with Coconut Milk, it becomes a smooth and creamy Curry Sauce that'll transport you straight to the bustling streets of Bangkok. So go ahead, spice up your life with a bowl of Red Thai curry, and let your taste buds do the happy dance!
SHOP NOW
★★★★★

Absolutely delicious! I've been looking for years for a curry paste with this depth of flavor. It's absolutely amazing to finally be able to make authentic Thai curry without having to make it from scratch.

Sebastian
★★★★★

Follow the instructions and you will have a great, tasty, quick meal. I like a bit more bold flavor so I add some garlic, ginger, and sichuan chili flakes to the sauce before adding the coconut milk. Great served with rice and noodles!

Pritiben Patel
★★★★★

We love Mike's products. They have saved our family many times from ordering take out or settling for something less nutritious. They are a staple in our kitchen!!!! Essential for anyone who is health conscious and loves delicious home-cooked meals. Thank you Mike + Team.

Meg Fitzgerald
★★★★★

I was particularly drawn to this product because it is organic. I had a bumper crop of tomatoes this year and was looking for ways to use sauce other than marinara. I used this paste with equal amounts of homemade tomato sauce and coconut milk and combined with chickpeas over rice. It was delicious! I have a freezer full of tomato sauce for the winter, so plan to have many quick easy meals when I need them!

Amazon Customer
★★★★★

My family really likes the flavor of this curry and it has just the right amount of spice.

Lisa
★★★★★

First off, these smell amazing as you put them in the pan. Mix them with one can of coconut milk, and you have the perfect simmer sauce for any combo of veggies. You can't go wrong with potatoes, carrots, and onions, but I'm convinced that it will really make anything taste good. It's the perfect pairing with an Instant Pot, because the coconut milk provides the needed liquid to prevent burning, so no added water is required!

Cembalista
★★★★★

An easy way to get a quick meal in. The only think I do different from the instructions is I saute' some veggies and take them out of the pan. Then I add the spice mix and the coconut milk and stir to combine. Then I add the Tofu and at the end I add back in the saute'd veggies and a cup of defrosted peas. It's delicious and quick!

KD Shell